Shock and Strut Service at Koons Arlington Toyota
Put an end to your bouncy ride, schedule a shock and strut service appointment at Koons Arlington Toyota! The Koons Arlington Toyota service team is prepared to assist drivers from Alexandria, VA to Washington, DC - and far beyond - with a host of repair and maintenance needs! Schedule a service appointment today!

Why Service Sturt and Shocks
When it comes to overall handling, few aspects of the vehicle are as important as your struts and shocks. Indeed, your struts and shocks are vital to the overall comfort of your driving experience. From ensure proper shock absorption to helping with braking comfort, healthy struts and shocks are a must for long term vehicle functioning.
When to Repair Struts and Shocks
Bouncy ride quality and constant nosedives while braking is two of the larger indicators of shock and strut condition. If, when going over a pothole or speed bump you have excessive bouncing, it is often a sign of worn-out shocks. Shocks should dampen the ride, helping to absorb various jolts, bumps, and vibrations. Beyond this, if your vehicle nosedives when hitting the brakes, your struts may need to be checked out! To clarify a bit, by nosedive we mean a very exaggerated forward lurch in the front end of the vehicle.
Schedule a Strut and Shock Service Appointment at Koons Arlington Toyota!
Our team of technicians is ready to help Washington, DC and Arlington area drivers get back on the road with improved driving comfort. If you're looking to get a few additional maintenance needs taken care of as well, our team can help! From routine maintenance needs to larger, involved repair needs, Alexandria, VA drivers can count on the Koons Arlington Toyota service team for assistance!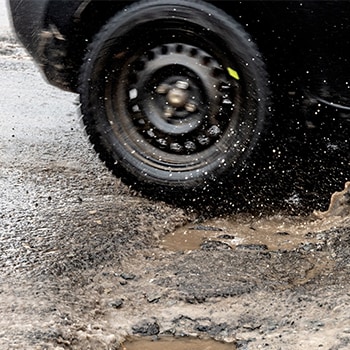 We're sorry, we do not currently have any specials published. Please check back soon or contact us for more information.